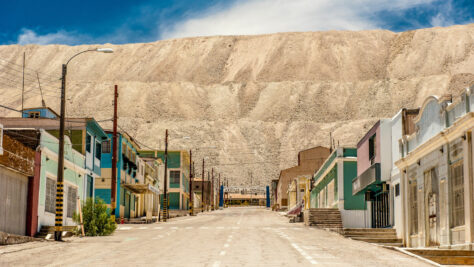 Foreign direct investment in Latin America plunges by 45% amid pandemic
The region suffered the sharpest decline in foreign investment flows to developing countries in 2020.
Foreign direct investment (FDI) flows to Latin America plummeted by 45% in 2020 to $88 billion, according to UNCTAD's World Investment Report 2021, published on 21 June.
"The region suffered the sharpest FDI decline in developing countries. Latin American economies faced a collapse in export demand, falling commodity prices and the disappearance of tourism, leading to one of the worst contractions in economic activity across the world," said UNCTAD's director of investment and enterprise, James Zhan.
The fall in FDI was severe across the board, yet there were notable differences across sectors. Inflows in hydrocarbon, manufacturing, and travel and leisure industries contracted severely, while flows in exporters of minerals and metals were partly sustained by a recovery of the commodity terms of trade during the second half of the year.
"Most importantly, the pandemic had severe consequences for international investment in SDG-relevant sectors, with a contraction of infrastructure investment by over 75%. This adds to the region's vulnerability and represents a major roadblock to achieving the SDGs," Mr Zhan said.
South and Central America
FDI to South America more than halved to $52 billion, with flows to Brazil and Peru reaching their lowest level in two decades.
In Brazil inflows plunged by 62% to $25 billion, drained by vanishing investments in oil and gas extraction, energy provision and financial services.
In Peru flows crumbled to $1 billion, influenced by one of the worst economic slumps in the world combined with political instability.
In the rest of South America flows were dragged down by the oil price crash in the first part of the year.
In Central America FDI inflows declined by 24% to $33 billion, partly shored up by reinvested earnings in Mexico, where they dipped by only 15% to $29 billion.
In Costa Rica, a sudden halt in investment in special economic zones was responsible for most of the decline in FDI inflows to $1.7 billion.
Flows to Panama shrank by 86% to less than $1 billion.
The Caribbean
In the Caribbean, excluding offshore financial centres, flows declined by 36% following the collapse in tourism and the halt in investment in the travel and leisure industry. The contraction was due to lower FDI ($2.6 billion) in the Dominican Republic, the largest recipient in the subregion.
Flows to Haiti fell by 60% to $30 million and to Trinidad and Tobago turned negative, to -$439 million.
Outward investment by Latin American multinational enterprises turned negative at -$3.5 billion, due to negative outflows from Brazil and lower investments from Mexico and Colombia.
Flows expected to remain low in 2021
Investment flows to and from the region are expected to remain at a low level in 2021 and most likely will not recover their pre-crisis level before 2023.
The recovery of inflows will vary across countries and industries, with foreign investors set to target clean energy and the minerals critical for that – pushed by a worldwide drive towards a sustainable recovery. Other industries showing signs of a rebound include information and communication, electronics and medical device manufacturing.
Yet the region's lower growth projections compared with other developing regions, and the political and social instability in some countries put a downward risk on prospective FDI inflows.
Latin America and the Caribbean: FDI flows, top 5 host economies, 2020
(value and change)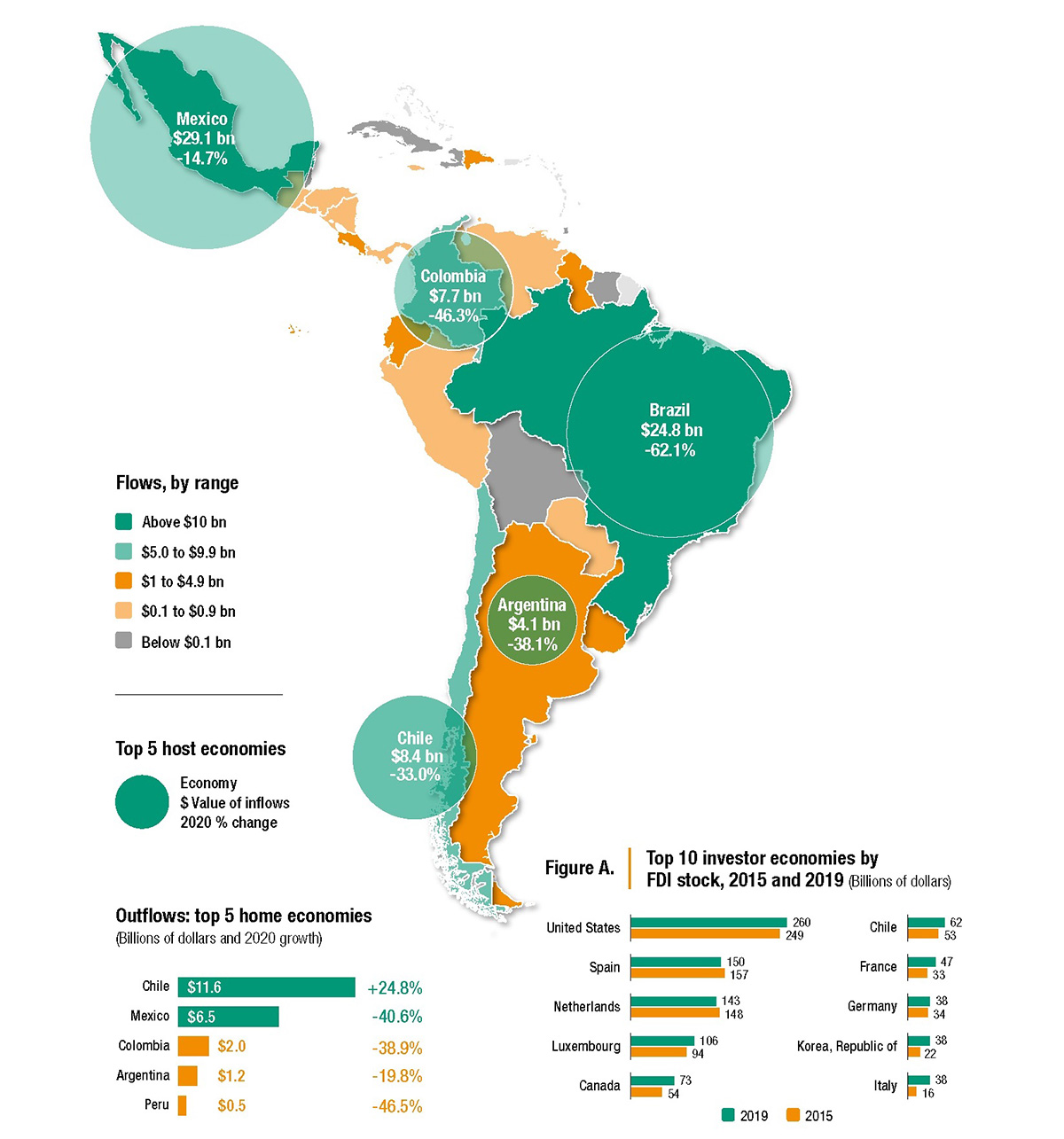 Source: UNCTAD, World Investment Report 2021.