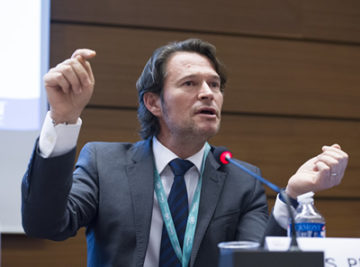 Family businesses are a force for long-term good, speakers say
The powerful alignment of family business and the sustainability agenda is revealed at a first-of-its-kind meeting at the United Nations during the World Investment Forum.
The legacy concerns of family businesses and the long-term vision needed to achieve the Sustainable Development Goals (SDGs) are powerfully aligned, speakers said at an innovative meeting at the World Investment Forum on 25 October.
Firms owned or run by families account for two-thirds of businesses worldwide, 60% of the entire human labour force and 70% of global GDP – making them an essential force in the sustainability agenda – according to Caroline Seow, head of sustainability at Family Business Network International (FBN-I), co-organizer of the UNCTAD event.
FBN-I had pledged to promote a business model that would benefit as many people as possible and the environment for generations to come, Ms. Seow said. To give life to this pledge, FBN-I developed its Polaris platform to helps family-owned businesses understand and implement sustainability concepts and practices in their day-to-day activities.
"We must shatter the myth that business and society exist in tension with one another," she said, pouring scorn on Milton Friedman's analysis that business only operates to enrich itself.
"Purpose-driven businesses reject the Milton Friedman model. Prosperity for all transcends the material gain of the few."
UNCTAD's head of investment and enterprise James Zhan said that FBN-I was participating in a United Nations meeting for the first time. UNCTAD offered the right platform on which many players from different realms like this could meet, he said.
FBN-I chief executive officer Alexis Du Roy de Blicquy and Jesus Casado, Secretary-General of European Family Businesses, moderated the meeting.
We are family
Mr. Casado said that family companies had a long-term vision, the goal of preserving assets, a commitment to local communities, were prudent by nature and natural incubators of innovation – "around the dinner table" – and the advocates of capitalism with a conscience.
Pacari Chocolate founders and co-chief executive officers Santiago Peralta and Carla Barboto, business and life partners from Ecuador, explained that they worked with 400 cocoa-pickers to produce award-winning premium organic chocolate.
"The idea was to make not only the best chocolate but to be ambassadors of Latin American flavours," Mr. Peralta said. "From 'tree-to-bar' we practice a holistic approach."
Mr. Peralta said that the philosophy behind a family business was the same as that behind the Sustainable Development Goals.
"If I don't treat the farmers well now, how is my son going to make chocolate years from now?" he said.
Ms. Barboto added that she did not regard these farmers as mere suppliers but as part of the whole value chain and they were rewarded accordingly.
Valentine Fievet, member of the supervisory board of Unibel SA – makers of Babybel known for its "laughing cow" brand – said that Bel was a family group (now being run by her brother) that was one of the largest producers of cheese in the world.
Major force
"We foster sustainable farming wherever we source in the world," she said, noting that the company and its Bel Foundation charitable arm worked together to ensure the best long-term outcomes.
"Our challenge as a large company is to be leaders in SDG implementation, and inspire others," she said. "We can weather different situations because we are here for the long term."
Ms. Fievet said that, in general, governments did not recognize the specificities of family businesses or their role as "a major force in the economy" and no special policies were designed for them.
Definitions as to what was a "family business" also varied in Europe, the United States and China, to name a few, speakers said.
Alfonso Líbano Daurella, non-executive director and corporate social responsibility chairman of Coca-Cola European Partners – the largest bottling company in the world – explained that his family holding had many interests, including in coffee and orange juice, and said his family's extensive charitable work in Spain and Africa had two primary targets: obesity and waste.
"These are challenging targets, but we can do it," he said. "In Norway, we are already recovering 95% of our waste. We, as bottlers, must comply with waste-compliance regulations. The advances we have seen in Morocco, for example, are impressive."
Long-term outlook
"I started a Coca-Cola bottling business in Africa in 1982 with five friends and one point-of-sale – now the company employs 6,000 people," he said. "It was important to us to leave the value-added there and invest part of the profit locally."
Philip Aminoff, deputy chairman of Finnish lighting company and family group Helvar Merca, said that listed companies – as opposed to family businesses – were obsessed with earnings before interest and taxes (EBIT) and other financial metrics. Family businesses reinvested up to two-thirds of profits while public companies distributed two-thirds to shareholders or others, he said, making them stable and responsive economic players.
As chair of the Finnish family business association, Mr. Aminoff said the economic role of such businesses was little understood and deserved more academic attention.
Winson Yeung, Singbee vice president and life and business partner of Singbee chief executive officer Lina Wang, said they were both scions of family businesses in China and they had compatible sustainable business aims when they met at university in London. Their business makes sustainable lighting technology that has tackled river pollution in China.
Ms. Wang said that her company had collaborated with others to alert the Chinese government to its responsibility in cleaning up the river system, and now more than 1,000 rivers were clean.
Chopard chief marketing and communication officer Louis De Meckenheim, speaking for the Scheufele family which owns and runs the luxury Swiss watchmaker, said that the company "lives on its history, but invests in the future".
"The notion of 'giving back' is essential," he said. "As speakers have said; you don't own a family business, you borrow it for the next generation."